U.S. House of Representatives Commends for the First Time the Contribution of Chinese Entrepreneurs
Profile picture: Wei Jiafu (middle), President of China Ocean Shipping (Group) Corporation, was awarded the "Maritime Commander Award" by the Connecticut Maritime Association on March 25. The Connecti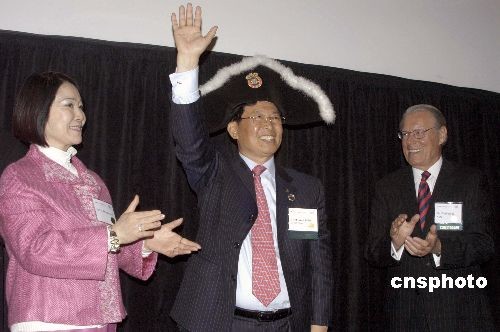 Profile picture: Wei Jiafu (middle), President of China Ocean Shipping (Group) Corporation, was awarded the "Maritime Commander Award" by the Connecticut Maritime Association on March 25. The Connecticut Maritime Association is one of the most influential maritime associations in the United States. This is the first time the award has been awarded to the Chinese in its 20-year history. China News Agency, Wei Wei
China News Service, Washington, October 26 (Reporter Wu Qingcai) The U.S. House of Representatives recently passed a resolution under the chairmanship of the Speaker of the House of Representatives Pelosi in recognition of the contribution of Wei Jiafu, President of China Ocean Shipping Group, to the U.S. economy and employment, and praised it. He is the true "civil ambassador" in the hearts of the American people. This bill will be permanently recorded in the archives of the US House of Representatives and become part of the history of the United States.
The proposal was proposed by the United States Congressman Stephen Lynch from Massachusetts. This is also the first time that the US Congress has paid tribute to Chinese business leaders through such recognition.
Stephen Lynch said in the motion that under the leadership of Wei Jiafu, COSCO Group was the first foreign shipping company to meet the requirements of the US Department of Homeland Security's ocean shipping regulations. In addition, COSCO Group still employs the largest number of Chinese-owned companies in the United States. As a result, COSCO Group won awards in ports such as Long Beach, Seattle, New York, and Boston.
The bill holds that Wei Jiafu's professionalism has promoted the establishment of good relations between the peoples of China and the United States. He is the true "civilian ambassador" in the hearts of the American people.
Not long ago, Kerry, chairman of the US Senate Foreign Relations Committee, also proposed a similar proposal. U.S. media reported that although the Kerry proposal is not legally binding on the executive branch, the proposal has a symbolic significance for deepening understanding and cooperation between Chinese and American companies.
On the 26th, Wei Jiafu, who was on a visit to Washington, told a reporter about the story. In 2000, the world shipping giant Maersk Group cancelled the route of Boston Harbor and the Boston port faced a crisis of closure. China COSCO Group provided timely assistance, saved the employment opportunities of 9,000 local dock workers and created more than 16,000 new jobs.
Wei Jiafu revealed that in fact, in the 1990s, almost no positive comments on COSCO could be found in the US media. A few years ago, US lawmakers still had to oppose COSCO Group, claiming that COSCO "disrupts the order of the US shipping market" and "smuggling arms. "Wait, but the fact that COSCO Group used localization and invited members to the United States branch office to understand the facts eventually eliminated these misunderstandings."